Speakership: FCT Court issues criminal summons against Gbajabiamila
nassnewsng@gmail.com
nassnewsng.com
Adeboye Omoboye
The Race for Speakership of House Of Representatives has taken a new dimension as Gbajabiamila's Substitution is becoming real per second.
See the enclosed Copies of the Criminal Summons, proof of service, CUPP press statement and other indicting /Conviction documents against Gbajabiamila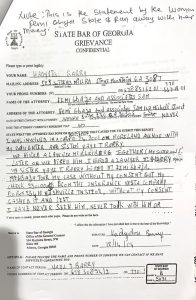 4th June 2019
…. DEVELOPING STORY
From CUPP
… Gbajabiamila's Speakership aspiration runs into trouble as FCT sets Monday 10th June as arraignment date
… Tinubu camp thrown into disarray as opposition coalition CUPP member party Action Peoples Party commences criminal proceedings
… Opposition coalition vows to push for arrest warrant if Gbajabiamila fails to honour Court's summons on Monday 10th June 2019
The race for the election of the Speaker of the House of Representatives has taken a different turn as an FCT Court has issued criminal summons against one of the contenders, Femi Gbajabiamila.
The Court acting on a Direct Criminal Complaint filed by one of CUPP member parties ,the Action Peoples Party led by Ikenga Imo Ugochinyere ordered Mr. Gbajabiamila to appear on Monday, 10th June, 2019 less than 24 hours to the election of the leadership of the House for his arraignment.
The charge is pursuant to Section 156 and 158 of the Penal Code of FCT