REPS SPEAKERSHIP: MEET THE PREFERED CANDIDATE, OLAJIDE BOLADALE OLATUBOSUN, FCA
nassnewsng@gmail.com
nassnewsng.com
Omoboye Adeboye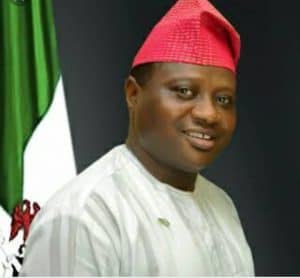 Hon. Olajide Olatubosun is an alumnus of University of Lagos with Bsc. (Hons) in Botany. In the quest to advance his knowledge in the field of Accounting, he enrolled as a student of Institute of Chartered Accountants of Nigeria and became an Associate of the Institute (ACA) in 1998 and to crown it all, he became a Fellow of the Institute afterwards.
A skilled top senior executive cum politician with broad knowledge and experience in public sector financial management, logistics, human resource, management of strategic alliances and general corporate administration. He is result- driven, and unassuming with an excellent track record and proven ability of building and retaining highly motivated team, maximising productivity and achieving accelerated growth.
As a Fellow Chartered Accountant, he was employed as Finance Manager at Coastal Bottlers Limited where he was responsible for the formulation and implementation of financial policies and financial strategy. He was instrumental to the success recorded that packaged Coastal Bottlers Limited for equity financing under the Small and Medium Enterprises Equity Investment Scheme (SMEEIS). This was a major component of the company's turnaround strategy.
To further his career in the private sector, he joined UACN Plc between 2005 and 2007 where he became a Franchise Accountant, Regional Accountant and Operations Accountant respectively. His major achievements during this period were but not limited to N3b financing deal for Company's Franchise Business with some leading Banks to refinance debts obligation of franchisees and the construction of new restaurants. This resulted in improved operating cash flows and a rapid growth of the franchise business. He was also a Group Finance Manager at Superflux International Limited from where he was appointed as the Executive Director & Group Chief Operating Officer of CASHLINK LEASING PlC to oversee the strategic repositioning of the car rental business with overall responsibility of managing the company's branches in Lagos, Abuja, Port Harcourt and Ghana with staff strength of over 250. Within the period of two years, he achieved an outstanding success.
Hon. Jide Olatubosun was also at a time, the Chief Executive Officer of CORPORATE CAPITAL ASSOCIATES LTD and it is to his credit that he added immense value to the corporate body through organisational development, outsourcing, technology services, consultancy, financial training and public sector financial management. Worthy to note also, is that he was a member of Oyo State Internal Revenue Board.
To answer a clarion call to service, he contested as a Member, House of Representatives to represent the good loving people of Saki East/Saki West, Atisbo Federal Constituency of Oyo State in 2015. For a man who came from a private sector to become a Member, House of Representatives with huge experience from both sectors couple with his unassuming nature that has so much endeared him to his friends, associates and colleagues, one can only be quick to say that he is versatile and well admired.  Hon. Olatubosun is currently a member of several committees, part of which are Appropriation, Commerce, Ports and Harbour, Women affairs and as a Member, he has sponsored several motions and bills which include:
• Motion for the establishment of Federal Radio Corporation of Nigeria (FRCN) in Saki, Oyo – State
• Motion on the implementation of the International Public Sector Accounting Standard (IPSAS)
• A bill for an Act to alter the first schedule to section 3 of the constitution of the Federal Republic of Nigeria 1999 (as amended) to reflect the proper name of ATISBO Local Government area of Oyo – State.
• Urgent call on the Federal Government to investigate the persistent earth tremor experienced in Saki, the headquarters of Saki – West Local Government Area of Oyo – State.
• Need for the Federal Government to commence the construction of international markets across border communities in Nigeria, starting with Okerete International Border Market, Saki, Oyo – State.
• Urgent need to investigate the failure or refusal of AGIS and AACTRIS to process the backlog of applications for the issuance of Certificate of Occupancy in FCT area Councils.
• A bill for an Act to amend the national identity management commission Act no 23 2007 to among other things delete the provisions of section 5 subparagraph (0) and stipulates a time limit for the issuance of the permanent national identity card and for other related matters.
Similarly, he was appointed to chair some strategic sub-committees in Committee on Appropriation among which are Agriculture and Rural Development, Agricultural Institutions,Water Resources, Defence, Army, Navy and Airforc, National Intelligence, Labour, Sustainable Development Goals (SDGs), Finance, Procurement and Customs.
During the recently concluded last general elections, he was again re-elected for the second term to represent Saki East/Saki West, Atisbo Federal Constituency of Oyo State in the 9th Assembly, a feat that was achieved through quality representation to the admiration of his constituents.
In conclusion, with every sense of responsibility, we call on our colleagues to support and canvass to convince Returning Members and Honourable Members Elect towards the realization of Rt. Hon. Olajide Olatubosun's ambition as the 9th Speaker, House of Representatives for a more prosperous Nigeria.