Reps want Parliamentary System of Government for Nigeria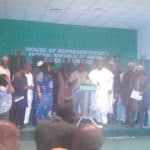 nassnewsng.com
Brown Sylvia. A
71 bipartisan members of the house of representative are canvassing for Nigeria to return to the Parliamentary system of government.
Speaking with newsmen at the National Assembly on Thursday 13th December, 2018, the Chairman of the group Hon. Chinda who was represented by Hon. Nicholas Ossai, said the Parliamentry system suits Nigeria because it is more economical and largely efficient in the conduct of government business, unlike the presidential system currently practiced which constantly produces lower output in terms of growth, higher and more volatile inflation, greater income inequality, slow passage of legislations and economic instability.
Hon. Ossai argued that" the level of instability and volatility of the presidential system makes it difficult to achieve economic objectives, the over centralization of government decisions that re prevalent in the presidential system obstructs economic development when compered to the parliamentary or hybrid system.
"Parliamentary system promotes inclusion and collectiveness which is critical to equality of income and distribution of opportunities and the decentralization of power in the parliamentry system helps to douse tension in countries like Nigeria".
"We are a bipartisan members of the House of Representative, who feel that the parliamentary system of government promulgated by the Lyttleton Constitution of 1954 is the best for Nigeria since the presidential system has reduced us to the poverty capital of the world," he stated.
Also speaking on the proposed legislation Hon. Mohammed Tahir Monguno posited that the presidential system is espensive especially for a developing country like Nigeria that is multiethnic and religious in nature adding that the concentration of power in the center is detrimental to development of federating units.
Aside Hon. Ossai and Hon. Monguno, other members of the group present at the briefing include Hon. Abdulsamed Dasuki , Hon. Boma Goodhead, Hon. Timothy Golu, Hon. Gabriel Onyewife, Hon. Sergius Ogun, Hon. Emeka Ujam among others.