APC Reps support President Buhari on rejection of amended electoral bill,says document is imperfect
nassnewsng.com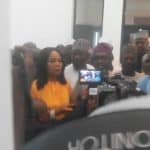 Brown Sylvia A
Speaking with jornalist House of Representatives caucus of the All Progressives Congress ( APC) on Wednesday 12th December, 2018 pitched their tent with President Muhammad Buhari on his refusal to assent to the Electoral Act amendment bill, describing the legislation as imperfect.The majority Leader Hon. Femi Gbajabiamila made the declaration after an emergency meeting.
Hon. Gbajabiamila remarked that signing the bill as presently amended without an alternative provision for manual accreditation of voters other than electronic method would lead to the disenfranchisement of millions of Nigerians during elections. He said the situation was witnessed in 2015 where even the sitting president had difficulties getting accredited.
He said that constitutionally, the President was not compelled to give reasons for declining assent to any piece of legislation, stressing that President Buhari has been kind enough to state his reasons for withholding his assent.
He said: "It was one or two point agenda meeting. What is on the front and centre right now in our discourse is the electoral amendment bill which the president has not signed and there are calls for us to veto it. Perhaps, a lot of people don't understand the import and the implications of signing an imperfect document.
"The document is imperfect and you can read it or interpret it any how and if count was removed when it should've been there, then you can't even override that imperfect document. You have to first of all amend that document and start the process all over again and then send it back to Mr. President.
"He also said it is too close to the elections and that is the reason for the ECOWAS protocol".
"So, what Mr. President has done is to protect everybody in Nigeria. Yes, do your electronic accreditation but make room for the possibility for manual accreditation in the event the electronic system fails".
Gbajabimaila therefore urged the National Assembly to remove all the imperfections in the amendment bill and resend it to the President for assent, assuring he would do so.
On the TraderMoni initiative which was condemned by the Speaker of the House Rt. Hon. Yakubu Dogara, Hon Gbajaimaila said criticism by members of the National Assembly were unnecessary because they passed the scheme in the 2018 budget.
But should the members of the opposition parties insist on overriding the presidential veto, Gbajabiamila said that they would not get the required two-third majority."Lawmaking is about numbers and we have more than the numbers. If they (opposition) are able to muster the required two – third and they can push it, there is nothing we can do, but as a party we're not going to be part of the two – third", he said.