OSUN STATE HOUSE OF ASSEMBLY PASSES FORCEFUL ENTRY AND ILLEGAL ACQUISITION OF LANDED PROPERTY PROHIBITION BILL AND 7 OTHER AMENDMENTS BILLS
nassnewsng.com
Falade Michael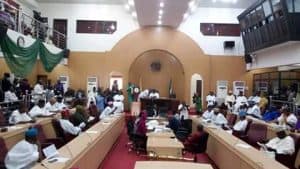 As the 6th Assembly under the leadership of Rt (Hon ) Najeem Salam is winding up . The legislatures are keeping to the promise of working to the last day in office . The Assembly passed the passed the forceful entry and illegal occupation of landed property prohibition bill of 2019, The bill which await the Governor's accent is designed to prevent the activity of popular land grabbers know as Omo oni le in the state.
The bill was passed along with other bills doing the plenary session at the state House of Assembly in Osogbo.
Other bills were Osun State Audit Bill 2019, Osun State Public Political Office Holders Pension Payment and Severance Packaged Bill 2019, Osun State Legislation Funds Management Bill 2019, Osun State Islamic Customary Marriages Registration Bill 2019, Osun State District and Tempo Office Establishment Bill 2019 and Osun State Urban and Regional Planning.
The house doing plenary also adopt Harmonised Standing Orders and Rules of Houses of Assembly in the South West during the plenary.
The House according to the Speaker, Dr. Najeem Salaam said the Assembly could pass the bills relying on Order 54 of the standing Orders and Rules of the Assembly before the passage of the considered bills.
Dr. Salaam also explained that the adoption of Harmonised Standing Orders and Rules of Houses of Assembly in the South West would ensure that the Assemblies would be working in unison.
The Speaker while commending the lawmakers for their contributions for the success of the sixth Assembly announced that the House would be having its valedictory and last sitting on Thursday, 16th May 2019.