OSUN ASSEMBLY PASSES RESOLUTION ON THE STATE OF SECURITY IN THE STATE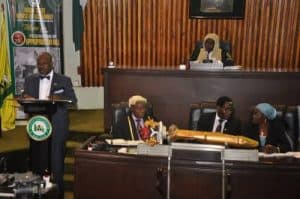 nassnewsng.com
falade micheal
nassnewng@gmail.com
The 7th Assembly of the state of Osun in its first Plenary Sitting today presided over by the newly elected Speaker, Rt. Hon. Timothy Owoeye, passed a resolution on the security situation in the state.
The motion which was moved by the Majority Leader of the House, Hon. Maruf Ajibola and was seconded by the Chief Whip. Hon.Babatunde Olatunji respectively resolved that the Governor, Mr. Adegboyega Oyetola, should immediately convene a high profile security summit involving major stakeholders in the Nine (9)Federal Constituencies in the state.
This with a to having inclusive security strategy to address the problems of kidnapping, armed robbery, banditry, communal clashes and other social menace in every part of the state.
The resolution also include that the Governor should direct the Local Government Chairmen in the state to beef up security in their respective domains by ensuring that the security agencies are alive to their responsibilities.
The Parliament also had it in the said resolution that the Police Command should provide more Armoured Personnel Carrier (APC) to strategic places in the state.
The Speaker after thorough deliberations on the issue by the Honourable Members commended the efforts of the Governor on it before now saying the investors, visitors and other people who have business to do with the state are welcome as Osun remains as peaceful as ever. He also assured the residents of the state to be more sensitive to their environments by reporting any strange face or movement to the security agencies for prompt intervention.
Hon. Owoeye equally charged the Immigration Officers in the state to always check the influx of people into the state describing the current security challenges as alien to the peaceful state of Osun.