HON. J. DYEGH DECLARES INTENTION FOR OFFICE OF TGE SPEAKER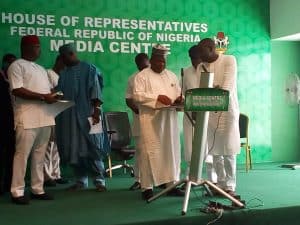 nassnewsng.com
Adeboye Omoboye
Hon. John DYEGH, Ph. D has declared his intentions to contest for the office of Speaker of the ninth House of Representatives, today Wednesday, 17th April, 2019.
Hon. John is a stunt APC loyalist who believe in equity and Justice. He was of the opinion that the ruling party, his party APC should zone the position of the Speaker to the North Central geopolitical zone, haven produced one of the highest vote that brought in the President.
North Central has been sideline for a very long time, and this is the time to awaken the polity of the party, to sensitize our colleagues, both the returning and fresh Honourable members for being among the chosen few to drive Nigeria to the next level. Hon. John tagged his declaration as "House project for Harmony".
In his address with the press, Hon. Said he is ready to offer his time and talent for the good of every Nigerian. The decision to join the race is based on his unyielding faith in a United and prosperous Nigeria.
On a 7- point evidence – based legislative agenda, Hon. John promised to implement the amendment of the Constitution of Federal Republic of Nigeria(as amended), to ensure legislative experience counts by extending the four years tenure to Six – year tenure for legislature and more..
Hon. John Dyep, Ph. D is from Gboko/ Tarka Federal Constituency in Benue State.