Senate is "an assembly of elders"- Sen. Ken Nnamani
nassnewsng@gmail.com
Adeboye Omoboye
nassnewsng.com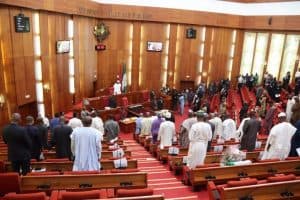 Ken Nnamani, a former senate president, who said the presiding officers of the new senate were elected in a transparent manner, described the upper legislative chamber as "an assembly of elders".
Nnamani, who congratulated Lawan and Omo-Agege, said the nation's interest, rather than party's interest, must prevail at all times at the assembly.
"Nigerians are looking forward to a different outcome this time around because of the way you were elected," he said.
"If President Muhammadu Buhari succeeds, you have succeeded yourselves. Therefore, there is no more excuse," he said.