Sen. Ndume pushes for more couches to the Abuja- Kaduna Rail Line.
nassnewsng.com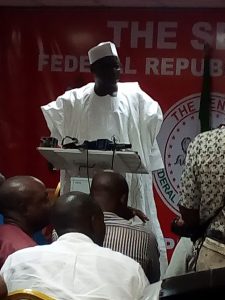 adeboye omoboye
Senator Ali Ndume representing the people of Borno South has raised an important motion on the urgent need to increase the number of Couches to Abuja – Kaduna rail line. The senator relayed his experience on board a couch to Kaduna from Abuja noting with concern the undue pressure on the existing facilities at the Abuja-Kaduna Rail Line.
"As a very important personality on board the couch, I was asked to stand "the Senator narrates. He brought to the notice of the Senate that most passengers' en-route Abuja – Kaduna have turned to the railway as a safer means of transportation. Aware that the surge in the patronage of the rail services may have been attributed to its safety, comfort, convenience and perhaps affordability, which have drawn many commuters following the high risks on Abuja-Kaduna expressway that is threatened by kidnappers, armed robbers and other kinds of criminals. This has led to rowdiness during ticket purchase and survival of the fittest for passengers willing to buy tickets across the counters as officials deliberately hoard and sold tickets to the highest bidders. The Senate observed that the daily schedule for Abuja-Kaduna from Monday To Sunday are 7:00a.m, 2:00pm and 6:00pm except for Wednesdays with only two trips at 7:00am and 6:pm.
Other Senators made various contributions in their own view in relation to the motion. Senator Shehu Sani in his contribution to the motion said, Abuja – Kaduna road is the most dangerous road in Africa for now; therefore the motion should be given an overwhelming support. Senator James Manager said "It's only a person who wants to commit suicide can risk the journey of Abuja – Kaduna by road. Senator Gbenga Asafa in his own view related Abuja – Kaduna rail line to the china rail system when he visited China and the delay in the achievement of such.
The Senate, aware that huge numbers of travelers jostle for tickets sold at #1,500 after queuing for about two hours to enable stand for two hours trip. Senator Ndume, haven noted that every good thing usually face its share of challenges, told his distinguished colleagues that the rail transit (Abuja-Kaduna) is faced with shortage in the number of available couches which explains the long queues recorded at the Stations.
The Senator, worried that Nigerians willing to use this service are now meant to queue up for hours before boarding, due to increase in demand, propelled his mates to urges the Federal Government to deploy more couches to the Abuja – Kaduna rail line to ameliorate the plight of the passengers and the Nigeria Railway Corporation to reduce the fare from #1,500 to #600 to make it affordable to the general public.
The Senate President, Senator Olubukola Saraki, after a unanimous roar of the red chamber, refer the motion to a committee to carry out a study to constitute the resolves of the Senate on the Couche