Post Election: Hon. Nasiru calls for Understanding among Politicians
Hon. Nasiru Daura
nassnewsng.com
Adeboye Omoboye
In a post election interview with one of our Correspondent in nassnews at Daura the home town of President Mohammed Buhari, Hon. Nasiru Sani Daura has called for wisdom and understanding in dealing with Election related matters amongst politicians in this election era.

Hon. Nasiru Sani Daura representing Baure/Zango constituency in Katsina, came into lime light in politics in 2011 when he contested for membership of House of Representatives under People's Democratic Party PDP and won as a first timer without lobby. He contested and won the second time and the third time now under APC. As a dodged man, he persevered with utmost optimism engaged his people, won the election and remained in the green chamber since then till now, as he won his re election bid again in the just concluded legislative election as a third time member in the House of Representatives, Abuja.
In the course of the interview with nassnews, Hon. Nasiru made it clear that Politics is not a rift to an end. The bond that bond us together is not the bond of politics. So therefore, politics will end and the bond will continue because politics is about people taking different parts to the end of the same road. Politics is having a better perspective of getting to the same place, getting respect for your own views, you either win or loose, I don't see it as failure out of not doing something but with different view proven wrong. As long as you work hard enough even if you fail don't feel bad because you tried your best but wasn't enough. "I will also beseech politicians not to go ahead and make promises under oath because you don't own tomorrow, you can only try your best, don't steal to please or certify people.
On March 23 Election:
Hon. Nasiru said he was elated when he had that he won the third time into the green chamber under a challenging atmosphere. He was keen on continuing those good works. He said "I advice APC as a party not to be complisant, work hard, avoid danger of voters appetite and double your efforts in mobilizing and educating the people. As of the opposition party, the hand written is on the wall. Look at reality, don't create unnecessary tension in the society. As for the People, be more patient with INEC and their ad-hoc staffs. He said he has worked very hard with sincerity of purpose and uniting the people for unity, to be re elected the third time.
We managed to come together as people, task the relevant office holders to achieve the same goals. We channeled our intervention funds toward delivery of Dividends of Democracy.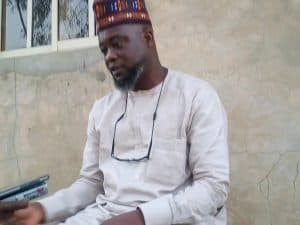 On Speakership of the green Chamber:
Hon. Nasiru who won his third re election bid under the plaform of APC said he believes in his Parties"s ideology. The APC leadership will need to guide us on who to lead the green chamber so as to avoid what happened to us in the 8th Assembly.
As someone from the North West, we have other options like ranking office, juicy committees and other franchise to contribute to project Nigeria.
On Governor Masari performance:
We don't have factions in APC in Katsina but we give constructive criticism. Four years is not enough for clear indication of failure, It takes time to get things done. Kogi, Kano and Kaduna state is a clear indication to factions in the party. APC came to power when PDP have spoiled things, the chances of indept change needs patient to move Nigeria forward, change for better security, education, health, better economy and others to mention needs another four years, then eight years is better to score the government of Rt. Hon. Masari performances and President Buhari. There is room for improvement.