NASS RESUMPTION: DEATH OF SERVING LAWMAKER STALL PLENARY.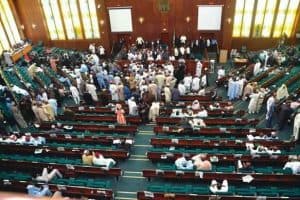 Brown Sylvia .A
THE DEATH OF A SERVING LAWMAKER ABAYOMI ABDUL-KABIR AYEOLA REPRESENTING IBEJU-LEKKI FEDERAL CONSTITUENCY OF LAGOS STATE STALLED PLENARY ON WEDNESDAY.
THE ADJOURNMENT FOLLOWS THE NORMAL PRACTICE OF THE NATIONAL ASSEMBLY TO HONOUR ONE OF THEIR OWN AS THE HOUSE ADJOURNED TO THURSDAY FOR THE VALEDICTORY AND TRIBUTE SESSION.
THESE ARE FEDERAL LAWMAKERS ARRIVING FOR PLENARY AFTER THREE WEEKS OF HOLIDAYS.
BUT THE NOTICE OF ANNOUNCEMENT OF THE DEATH OF A SERVING LAWMAKER ANNOUNCED BY THE SPEAKER YAKUBU DOGARA STALLED THE DAYS PROCEEDINGS.
THE SPEAKER ALSO ANNOUNCED THE DEMISE OF FORMER PRESIDENT ALHAJI SHEHU SHAGARI.
PRAYERS WERE HELD FOR THE REPOSE OF THE SOULS OF THE DEPARTED.
BOTH DIGNITARIES PASSED ON 30TH AND 31ST OF DECEMBER WHILE THE NATIONAL ASSEMBLY WERE ON RECESS.
PLENARY WAS LATER ADJOURNED TO THURSDAY JANUARY 17 FOR A VALEDICTORY AND A TRIBUTE IN HONOUR OF THE DEPARTED AS CUSTOMARY