Ashafa loses, Tinubu, Adeola win Lagos Senatorial primaries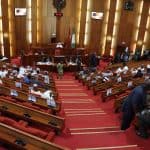 Adeboye
Senator Gbenga Ashafa has lost his bid to return to the Senate, for a third term on the platform of the All Progressives Congress.
The 63 year-old senator lost by a wide margin, the primary for the Lagos East ticket to a four-term House of Assembly member, Bayo Osinowo, according to the results announced Saturday by the All Progressives Congress (APC) Electoral Committee of the National Assembly and State House of Assembly primaries in Lagos.
The News Agency of Nigeria (NAN) reports the primaries, including a repeat of the senatorial primary election, were held on Friday.
The senatorial primaries initially held on Thursday, but were cancelled and rescheduled owing to logistic issues.
Announcing the results in Ikeja, Chairman of the committee, Mr Lucky Imasuen, said the primaries were contested for the three senatorial seats, 24 House of Representatives and 40 state House of Assembly seats .
In the results of the senatorial primaries, Imasuen said Sen.Oluremi Tinubu, who was unopposed, polled 89,494 votes to emerge as candidate for Lagos Central.
For Lagos West, the committee chairman said the incumbent, Sen. Olamilekan Solomon emerged winner with 378,906 votes, as against the 1,179 votes scored by Mr Kayode Opeifa and Mrs. Areago Olopade's 1,275 votes .
Imasuen, a former Deputy Governor of Edo State, added that a member of the state House of Assembly, Mr . Bayo Osinowo defeated the incumbent Sen. Gbenga Ashafa with 247,743 votes to emerge candidate for the Lagos East Senatorial district.
He disclosed that Ashafa, the incumbent, polled 20,385 in the primary.
Imasuen said the details of the House of Representatives and state House of Assembly primaries results were ready and that they would be released later.
He described the exercise as peaceful and successful.
"The primaries were peaceful and successful.
"We thank the state chapter led by Tunde Balogun for the support for the committee.
"We also thank all other stakeholders including all members of our party in the state for making the conduct a success," he said.