Senate Presidency: Senator Gaya throws weight behind Secret ballot nassnewsng.com Adeboye Omoboye
Senate Presidency: Senator Gaya throws weight behind Secret ballot
nassnewsng.com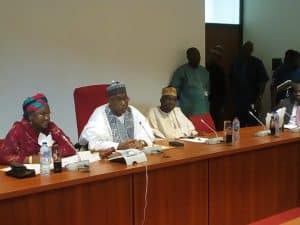 Adeboye Omoboye
Senator Kabiru Gaya ( APC Kano South), has declared that the secret voting pattern used in 2015 at the inauguration of the 8th Senate stands .
Gaya, who is contesting for the position of Deputy President of the Senate, made the disclosure on Thursday at a media briefing with Senate correspondents .
Gaya's comments came in reaction to recent protests and calls to the Senate to adopt the open ballot system in electing its presiding officers for the ninth Senate.
He stressed that the 2015 Senate Rule is the valid document for use at the election since it is the one currently in use.
According to Gaya, the process of amending the Senate Rules is such that a motion to that effect would be sponsored on the Senate floor and would be considered thoroughly by the Senate.
He said : "Such motion must be presented before the end of the life span of this Senate and processed and approved. Anything outside that is outside the due process.
"Between 2011 Rule and 2015 Rule, which one comes last?  the second one supercedes the first one.
" I am a member of the National Assembly who participated in putting  these rules together. We cannot change it now unless a member of the Senate moves for that change.
"If he moves for the change and somebody seconds it, the motion will be debated and the same thing also in the House of Representatives. It will be debated.
"If there is discrepancy between the Senate and the House, we will set up a Conference Committee. And they will bring it to us to find a date to sit down and pass it".
"Can you do that in one month?", he  queried.
It was learnt that some lawmakers are becoming apprehensive over alleged pressure being mounted by certain political stakeholders on the Clerk of the National Assembly, Mohammed Sani Omolori, whose duty it is to conduct the election into Senate Presiding Officers, to adopt a different draft rule that permits the use of open ballot system.
Gaya said his aspiration to be Deputy President of the Senate is based on the fact that his North West zone which produced the highest number of Senators of 21 deserved to be given the slot.