The clerk of the National Assembly, Mohammed Omolori was represented by the Deputy Director of information, John Gyara  who congratulated the forum and charged them to always "check the sources of their stories and balance all reportage. He urged the forum to maintain discipline and ensure that only credible medium, accredited by the Nigeria Union of Journalists are brought into the fold.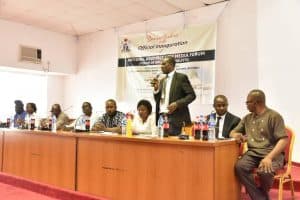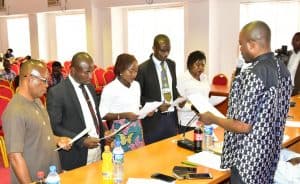 The oath of office was administered to Chairman of the Forum, Yemi Itodo by the representative of the National Assembly management and supervised by an official of the Nigeria Union of Journalists (NUJ).
Yemi Itodo , expressing his gratitude said, the leadership of the 8th Assembly created an office for, and appointed Special Assistants on New Media to the Senate President and Honourable Speaker, in addition to existing offices such as Special Adviser on Media and Chief Press Secretary; for effective dissemination of information to the global world through the internet as well as liaising between the online media and their principals".
According to Itodo, the essence of having a forum such as this, is for easy coordination of Online Journalists within the National Assembly; to regulate the influx and activities of Online Journalists around the complex, with the view to checkmate quackery and fake Journalists.