I receive 750 000 as salary- Senate President, Lawal Ahmad
nassnewsng@gmail.com
Adeboye Omoboye
nassnewsng.com
-We will pass budget before Christmas- Senate President
The Senate President, Senator Lawal Ahmad, today has disclosed his salary to be 750, 000 per month and also said Nigeria budget will be passed within three months.
nassnewsng@gmail.com
He assured Nigerians during the courtesy visit of the Senators Forum in the Senate today. The Senator's Forum led by the former lawmaker Senator Khairat Gwadabe, came to identify with one of their own who is now the leader of the 9th Senate. They relay their undoubted support for the Senate President, Lawal Ahmad.
In his speech during the visit, Senator Lawal Ahmad said "The ninth Senate id going to be United and a very focus Senate and partisan. The challenges before the ninth Senate is the challenges before the whole of Nigerian
Any minister, or Chief Executive Officer of an organization that is expected to function must function. Nigerians must ripe from their investment on us by getting things done. Nigerians should expect very good outcome, we will pass the budget in three months, at least at the end of September or early October.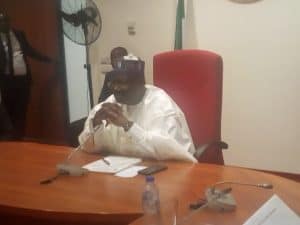 The National Assembly will process the budget and before leaving for Christmas the budget would have been passed. National assembly is going to be open to the public, as a Senate President i receive 750 000 as my salary.
nassnewsng@gmail.com
National Assembly needs proper funding because the legislature is very important. In 2018, we had the first version of the open day in National Assembly, we will continue with that another edition, so that the public will come to National Assembly and see what we do. We will do what will make Nigeria a stable country. We will get our self focus and do the right things. When we, the people with different experiences come together, we will progress.