HON. IBEZI HOSTS CONSTITUENTS, ADVOCATES FOR TRADITION
nassnewsng@gmail.com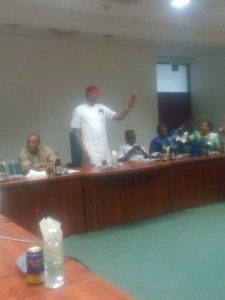 Newly elected member of the House of Representatives, Honourable Ifeanyichukwu (Ochiagba) Ibezi from Idemili North/South federal constituency of Anambra state hosted members of his constituency who are staffs of the parliament on Friday in National Assembly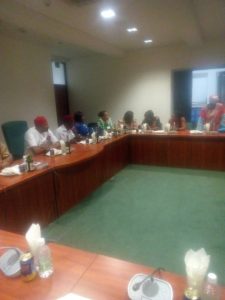 nassnewsng.com
Hon. Ibezi praised his constituents in his openings speech, while he was applauded, vowed to tow a different part from his predecessor.
from Idemili North/South federal constituency of Anambra state
Symbolically, the member from Idemili North/South Federal constituency of Anambra State requested for the breaking of the kolanut, as an advocate of tradition.
Mr Chinedu Akubueze, a director of civil service in House of Representatives, National Assembly break the kolanut, prayed and express his amazement to the welcoming attitude of the young Honourable Ifeanyichukwu Ochiagba Ibezi.
Honourable Ifeanyichukwu Ochiagba Ibezi
from Idemili North/South federal constituency of Anambra state did his compulsory National Youth Service (NYSC) in 1999 up to 2003 in National Assembly. He served as a personal assistant to Senator Jim Nwobodo and for 16 years, he has been contesting election and loosing until this 9th Assembly. This reason made him decide not to enter his new office in National Assembly until he sees the people he is representing who are members of staffs of the parliament.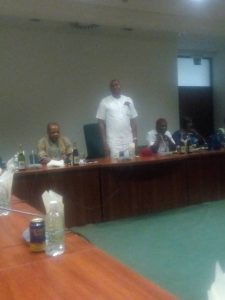 nassnewsng.com
He introduced his Senior Legislative Aid, Chief Tony Onyima, a former commissioner for Information in the State, former managing director of Sun News paper and director of general reality movement, a group that helped the member to win his election. He said chief Tony Onyima will always be in the office to attend to the needs of his people.
Hon. Ibezi after listening to his constituents one after the other, instantly inaugurated Idemili N/S Forum, nominated Mr Chinedu Akubueze, a director of civil service in House of Representatives, National Assembly as the chairman of the forum and also donated the sum of two hundred thousand naira (#200,000) as a take of grant.
He promised that all his earnings in National Assembly will be package and tied to a project for the development of Idemili North/South constituency.
He admonished his constituents to open an account with the take off support fund of the sum of two hundred thousand.
He said he can't do it alone, as a leader, he owe it fit to listen to what everyone has to say at any point in time.