Federal Housing Authority presents 2019 budget in Nass, proposes 20Billion for Mass Housing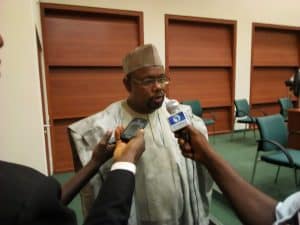 nassnewsng.com
Adeboye Omoboye
In accordance with legislative measure of National Assembly, Committees of both Chambers engages the executive on budget defence. Commitment to the reform of the budget process is to consider the integrity of the project selection process in the annual budget estimates submitted to the National Assembly by the President.
Today, the Managing Director of the Federal Housing Authority, Prof. Mohammed Al-amin breifed the Committee on Housing on 2018 budget performance report and also presented 2019 budget. The Authority performance in year 2018 was 48%, while Capital and Recurrent Expenditures performance stood at 51%. The year 2018 Budget was based on some key assumptions amongst which are improved revenue generation, completion of on-going projects, take off the Abuja Mass Housing Projects and Sales of houses in completed estates nation wide.
The Housing Authority presented 2019 budget targeted at achieving three principal mandates. The preparation and submission from time to time to the Federal Government of proposal for National Housing Scheme. Recommendations to the government on urban and regional planning, transportation, electricity supply developments as may be related to the successful execution of Housing programmes approved by the government and the execution of the housing programmes as may be approved by the government.
The proposed 2019 budget has a projected revenue target of #5.04 billion with sales accounting for 58% of the budget, while projected recurrent and capital expenditures are #2.48 billion and #2.52 billion respectively. The sum of #20 billion is proposed for the take off of the nation wide Mass Housing programme.
The authority, in line with it's vision of being the leading provider of housing and fascilitator of access to sustainable housing solution in Nigeria, promised before the house committee to work assiduously to ensure that it achieves it's revenue target in order to ensure full implementation of the budget.