APC Senator attacks party, threatens to defect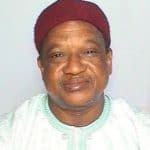 nassnewsng.com
The lingering crisis in the APC seems to have taken a new turn as a serving APC Senator and former Yobe state governor, Senator Bukar Abba Ibrahim ruefully admitted that his party has dashed his dreams and hopes as a progressive party.
He said this at his 70th birthday and book launch ceremony at Barcelona hotel in Abuja today.
The Senator who turned 70 Saturday said, "Without mincing words, as an elder statesman, I must say that my dreams and hopes have been dashed. We have certainly not done what I dreamed we will do and in many ways we are no better than the PDP that we sought to displace."
Showing his frustration on the night, the Yobe politician said "As we move towards the elections, I have to give a dire warning to the APC. Things are no longer the way they were in 2015 when we rode to power on a cloud of euphoria believing that things will change. Simply put, things have not changed and many things are worse and the people are bitter. We should not assume that we can win even with massive rigging.
Bukar Ibrahim who just stepped down for current governor Ibrahim Geidam to take over his senatorial seat come 2019 advised his party to take the yearnings of North East very seriously else the region will turn its back against the APC.
'The economy has gone down because of our actions and we are blaming the past too much rather than solving the present problems. I am going to give a dire warning. Let the North East not be taken for granted that we must support APC. Our interest in the North East has always been progressive and I will personally be watching for improvements in the APC. Improvements that will guarantee us victory such as respecting the rule of law and releasing political prisoners. If we are fighting corruption let us fight every corrupt persons and not select people in what may be seen as a one-sided witch-hunt".
'I shall sit back and continue encouraging my party to do the right thing. But if we don't, I still reserve the capacity to ask my people to go our separate ways and do what must be done for good governance to reign in Nigeria' the Senator said.