POLARIS BANK TAKES COOPORATE RESPONSIBILITY TO NEXT LEVEL, TRAINS ONLINE JOURNALISTSnassnewsng.com Adeboye Omoboye
POLARIS BANK TAKES COOPORATE RESPONSIBILITY TO NEXT LEVEL, TRAINS ONLINE JOURNALISTS
nassnewsng.com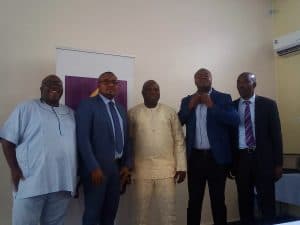 Adeboye Omoboye
Polaris Bank has taken cooporate responsibility to the next level today Thursday, May 16, 2019 by gathering online journalists to a one day media training.
It is a concept of giving back to the public in a special way with a mind set of cubing fake news in the society.
The one day training which started at 9a.m is focussed on examplary ethics of professional journalism "On-line Journalism in the Era of Fake News".
The organisers invited journalist from different organizations to the one-day Polaris Bank Media Capacity Building Session. The instructor Taiwo Obe went as far as teaching journalist how to detect fake news, manage fake news from spreading and turn fake news into a useful element of information to the public.
The event took place at Stanzel Grand Resort
Plot C103, Along A Close, Off 1st Avenue, Behind Fidelity Bank, Gwarimpa Estate, Abuja.
The Head, Corporate Communication at Polaris Bank, Rasheed Bolarinwa appreciated the fact that journalist are the cradle of information and if well trained, the society will be well informed with the truth.