Akin Alabi Expose the Huge Salary Earned by Nigerian Lawmakers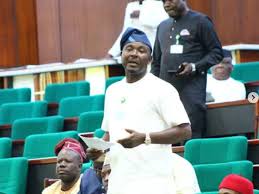 Akin Alabi, a businessman now a lawmaker at the green carpet end of the National assembly whose owns Nairabet, one of the thriving business at the moment in Nigeria was rooting for transparency in politics before resigning as the CEO of his company to join the law makers at the house of assembly for the betterment of his constituency. He entered the political world so as to make sure his constituency gets the amenities promised and to see to it that the allocated money are not looted but used appropriately. After winning the election, he stayed true to his word about transparency and he posted on his twitter account on 5th of April 2019 that, "i don't know what legislators truly earn until i start earning it. When i start earning it, the whole of twitter will know". Exactly 30 days in office, he wrote an article titled 30 days in Abuja on his blog where he dissected all law makers' basic salaries and exorbitant allowances. He said "he got N3,970,000.00 plus N7,940,000.00 for both housing and furniture. He also said they would be given N7m as car loan and severance N5m as severance. In a nut shell he said everything they earn on average is N9 million monthly in total.
Today on social media, many people are talking about how he did not stay true to his words and kept on tagging him to do the needful. I would suggest the go and check the article on akinalabi.com for more clarity. Some Top influencers like Wale Adetona came to hes defence saying he is a credible man even before he got his ticket for National Assembly. He is yet to post or say anything as regards that even as he is trending number 5 on twitter since the early hours of today.
Having said that, Nigerians are clamouring for lawmakers monthly earnings for reviewed and if possible reduced since all most of them do is sit and sleep at the assembly as always seen on National TV, and after election, most of them sit in Abuja or travel round the world and become a scarce commodity at their respective constituencies failing to fulfil their promises.