Dino Melaye storms INEC, demands cancellation of Election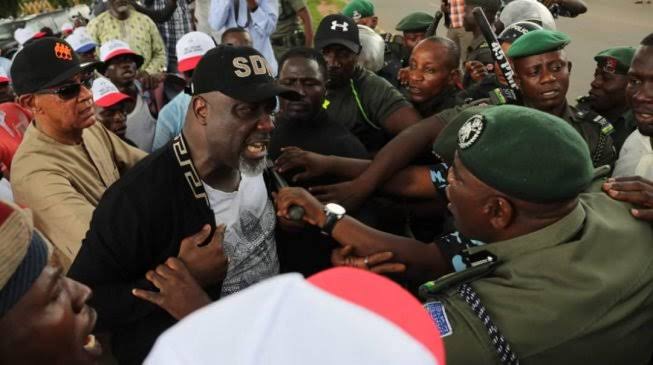 Senator Dino Melaye, on Wednesday stormed the office of INEC headquarters in Abuja where he formally lodge his protest and subsequently demanded the outright cancellation of the Kogi West Senatorial election that was held on 16 November, 2019.
Senator Melaye according to report came with 21 incriminating video clips containing details of violence and indiscriminate shootings by thugs allegedly sponsored by Governor Yahaya Bello told journalists that his determination to retrieve the stolen mandate "is a battle of no retreat, no surrender."
Part of the petition reads, "In conclusion, sequel to the abovementioned spread of violence, gunshots and unnecessary killings, disruption of the election, snatching of ballots boxes, multiple thumb printing, several electoral malpractices, thuggery, irregularities and total sabotage of the electoral process across all the seven Local Government Areas in Kogi State which were captured in the video footages attached herein, and the facts in paragraphs. More details
Okoye an INEC Officer who received the petition on behalf of the INEC Chairman, Prof. Mahmood Yakubu, said the commission would look into the petition and take necessary action as it deems it fit.
According to Senator Dino Malaye the evidence is so obvious that the social media is circulating the video like wildfire. According to Dino Malaye PDP report indicate that he was the winner of the election.
It would be noted thst Senator Dino Malaye lost his Nephew during the Governoship/Senatorial election held on 16th November 2019. Dino Malaye lament the state of thuggery and described the election as daylight Robbery
Whay are your thoughts on this? Do you think that Dino Malaye really stood a better chance than his counterpart in the APC? Please drop your comment in the comnent section below. Thanks