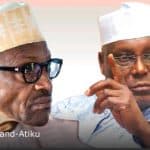 Following the just concluded presidential primary elections of the political parties and the emergence of former vice president, Atiku Abubakar as the Peoples Democratic Party (PDP) candidate, Northern and Southern leaders have scheduled a meeting to offer bloc support to a possible replacement of President Muhammadu Buhari.
A prominent Northern leader (names withheld by us), who is coordinating the meeting told Saturday Sun exclusively that the meeting became imperative after they re-examined the scorecard of President Buhari's administration in the last three years, and realised that he has, 'performed abysmally low.'
According to him, he has spoken to other prominent southern leaders and groups, including Afenifere, Ohanaeze, Ijaw National Congress, Middle Belt Forum, etc, "and we are going to have a meeting shortly to review what just happened and the way forward. It is a well-coordinated meeting, as time is of the essence."
According to the elder statesman who equally leads an influential pro-North group, "First, we want to reach out to the aspirants that didn't win the presidential primaries for them to rally round the candidate, and support him beyond boundaries, this is a job that is very important for us.
"We need the help of the press in this direction; I blame the press, they are not fighting with us to deliver a better Nigeria; if we can do what is needed, within a very short time the situation will change in Nigeria."
The Northern leader further said that most of the leaders from the north were in the forefront of Buhari's campaign and support for his election in 2015, but his performance in office is not what they expected. "We reviewed his performance in the last three years, we realised that he has failed, so that is why we need to remove him."
Commenting on the agenda of the proposed meeting, Spokesman of Afenifere, Yinka Odumakin, said the leaders have seen the way the country is, hence their move to take steps to effect change of leadership. "We are taking position that would lead to a change in leadership; secondly, we are talking of restructuring that would pay every section of the country; so the country has to be restructured to true federalism. Those are the issues, the country is not well managed as it stands now and there is the need for a change of leadership, the country must go back to true federalism, as to help every section of the country to develop at its pace."
On how sure they were that the person who would take over will implement their agenda, Odumakin said, "you will not say that there was a motor accident and you would not enter cars again; we can not say we would not be working because of the fear that what you want to get you didn't get it, keep working."
On what they would do if the present leadership decides to follow their agenda, the Afenifere spokesman noted: " If he is able to do in less than six months what he was not able to do in three and half years, we can forget it, but for now, there is no promisory note for him, since in three and half years he has failed to carry out those agenda. It is what have you done and not what you are going to do or what you want to do."
On the date of the meeting, he said, the meeting date is not for public consumption. "We will meet, and it is not for me to announce the date of the meeting and venue of the meeting for newspapers. Honestly, it is not right. When we circulate notice of meeting, it is for those who are involved only and not to those who are not part of the meeting, but after the meeting we issue a communiqué for public consumption."
Speaking in the same vein, National Publicity Secretary of Ohanaeze Ndigbo, Uche Achi-Okpaga, confirmed the meeting, and said the agenda is centred on restructuring Nigeria. According to him, "whether it is APC, PDP or any other party that is genuine and serious on restructuring, even though it means going political, we will support that party. The implication is that it is going to mean change of leadership since the present leader doesn't believe in restructuring."
On the date of the meeting, the Ohanaeze spokesman said he can't disclose it for obvious reasons.
In the event that the present government buys into the idea of restructuring, what were they going to do, Achi-Okpaga, said, " the present government can't buy into the idea of restructuring as President Muhammadu Buhari has never minced words about his intentions and policies; he has never supported restructuring, he has always spoken against it. In fact, this government is noted for not doing what it has said it would do. It is late for it to start talking about restructuring. Since the president doesn't believe in restructuring, he is not going to get our support."
The National Chairman of Pan Niger Delta Forum (PANDEF), Air Commodore Idongetsit Nkanga, in an interview with Saturday Sun, said, good leadership and restructuring are what Nigeria needs right now and that informs the evolving development.
Reacting to this, Director, Strategic Communications (spokesman) of President Muhammadu Buhari Campaign Organisation, Festus Keyamo SAN, called on Nigerians not to mind or take the leaders seriously, as they have very few votes.
According to him, that mythology is gone, where a few retired military Generals will sit in one place and anoint or decide a President for Nigeria. "This time around, it is the so-called leaders versus the masses, who have seen and benefitted so much from the President Buhari administration; it is these leaders versus the farmers who have benefited from the Central Bank of Nigeria (CBN) anchor borrowers programme; it is these leaders versus the traders, who have benefited from the Trader Moni programme of the government. These leaders don't have clout, and that will tell you the type of elitist agenda that Atiku Abubakar is coming up with", he stated.
According to Keyamo, contrary to what the Northern leaders were saying, they never supported President Buhari's election in 2015. "They supported former President Goodluck Jonathan, and yet Buhari won the election. If they said they supported Buhari in 2015, let them show where they issued a communiqué.
"That is the way they operate, some five Yoruba leaders would gather and say they were supporting so so and so candidate, and they issued a press statement, and yet the candidate they were supporting continue to lose election. So, don't mind them, their votes are very few, and Nigerians are now wiser, and they don't follow these leaders anymore."