SPEAKERSHIP: YAKUB DECLARES INTENTIONnassnewsng.comadeboye omoboye
SPEAKERSHIP: YAKUB DECLARES INTENTION
nassnewsng.com
adeboye omoboye
Adeboye Omoboy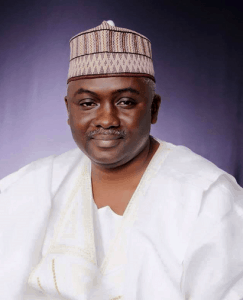 Hon.Yusuf Buba Yakub, the Lawmaker representing Gombi/Hong Federal Constituency in the House of Representattives has declared his intention to run for the position of Speaker when the 9th assembly is inaugurated.
The Lawmaker who hails from Adamawa Sate, North East was born about fifty-one years ago on August 13,1968, the young Yusuf Buba Yakub completed his Primary School education at the  Army Children's School, New Cantonment "A", Kaduna,in 1979 and proceeded to Government Secondary School,Maiha(then Gongola State),Adamawa State from 1980-1985.For his IJMB programme,Buba attended College of Preliminary Studies,Yola,from where he moved to College for Legal Studies for his Diploma in Law programme before acquiring an Advanced Diploma in Business Management from the Abubakar Tafawa Balewa University, Bauchi.He later bagged a B.Sc in Political Science from the University of Abuja. He was also recently  awarded a Certificate from the International Law Institute, Washington DC in the USA.
Hon.Yusuf Buba Yakub was also in 2016  confeerred with a Doctorate Degree on Philanthropy/ Management by Freedom University, Pottstown, USA,on the 12th of December 2016.
BACKGROUND/POLITICS
Hon.Yusuf Buba Yakub hails from Hong Local Government Area of Adamawa State,Northeast Nigeria , a region easily adjudged as one of the most underdeveloped in Nigeria. It was,therefore, imperative that a development advocate like him would seek position to correct the many anomalies visible in his home region.
The following are some of the offices and positions Hon.Yusuf Buba Yakub has used and is currently using in transforming his larger Constituency.
(a).Current Hon.Member representing Gombi/Hong Federal Constituency in the National Assembly from 2015 to date.
(b).Member,Presidential Committee on Northeast Initiative (PCNI).
(c)Local Government Treasurer,Social Democratic Party(SDP),Hong Local Government Area,Adamawa State,1992-1993.
(d).State Organising Secretary, United Nigerian Congress Party (UNCP),Adamawa State 1996-1998
(e)Member, Peoples' Democratic Party Accreditation Committee, 1999.
(f).Agent,General Olusegun Obasanjo for President at Jos National Convention, 1999.
(g)National Treasurer, Advanced Congress of Democrats(ACD)2005-2006
(h).National Exco,Action Congress (AC)2006-2008
(i).National Chairman,Advanced Congress of Democrats(2008-2014).
(J).Chairman, Technical Committee, Inter-Party Advisory Council(IPAC)2011-2014
(k).Member Caucus,All Progressives Congress (APC),Adamawa State,2014.
Other offices held include:Chairman,Police Community Relations Committee,Secretary, Catfish Farmers Association, Abuja Branch.President, Yuby Fish Village Cooperative Society. President, Abuja Aqua Alliance Cooperative Society and member Real Estate Development Association of Nigeria, Abuja.
Hon.Yusuf Buba Yakub's ability to multitask his duties and to fraternise easily with other developmental advocates like himself has endeared him to many across Nigeria and the world at large. His many roles as a Public Speaker,Community Leader,Philanthropist,Author ,Large Scale Farmer,Business Icon and Technocrat have constantly thrust on his shoulders the burden of trust and friendship of many across the globe.
His experience,industry, maturity,honesty and his renowned calm disposition even in the face of challenges,apart from his highly- applauded leadership style,are qualities Hon.Yusuf Captain Buba,as he is fondly addressed by admirers and close associates,brings to the table wherever the demands of service beckon.
FAMILY LIFE
Hon. Yusuf Buba Yakub,a down-to-earth family man and patriarch of many, is happily married to Mrs. Nancy,a union that is blessed with three children .