Senate adjourned to Tuesday, 20th November 2018
Senate adjourned to Tuesday, 20th November 2018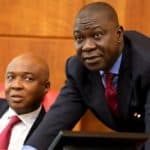 Welcome to a new Legislative Day in the Senate of the Federal Republic of Nigeria!
Senate President, Dr. Abubakar Bukola Saraki led the Principal Officers into the chambers; took the official prayers; and began the day's proceedings at 10:47am.
Senator Babakaka Garbai moved for the approval of votes and proceedings of Thursday, 8th November 2018. Senator Emmanuel Paulker seconded.
Senator Philip Aduda cited Order 10 and moved that since a majority of Senators are on oversight duty, plenary be adjourned. DSP, Ike Ekweremadu rose to second.
"This is in line with order 10.3; if we do not have quorum, we need to adjourn. That being said, all senators currently on oversight function should try to complete all duties before the end of the week."- Senate President, Dr. Abubakar Bukola Saraki.
Senate Leader moved that all other items on the order paper be stood down to another legislative day. Minority Leader seconded.
Plenary is adjourned to Tuesday, 20th November 2018.